Many thanks for your interest in the Leadership Directory run by The Leadership Academy on behalf of The Wheel.
The directory is a one-stop-shop for Leaders at various stages in their nonprofit careers to access relevant details of Coaches, Trainers and relevant Consultants.
To be eligible for listing you must fulfil the following criteria:
Provide a relevant service to leaders in the sector
Be available to people in the community, voluntary and social enterprise sector
Be available in Ireland
We reserve the right to add more criteria as the directory develops
Please note, we reserve the right to not include listings to the directory.
How it works
You complete the relevant details
It will be checked for relevance
Once it has been deemed relevant and your fee has been paid, if applicable, the listing will be made
Listings will be posted exactly as submitted, we will not edit for spelling or grammar etc.
All listings have an auto delete function of one year. If you wish to be relisted, please make a note to re-list at the appropriate time.
Please see below for guidance on how to complete the form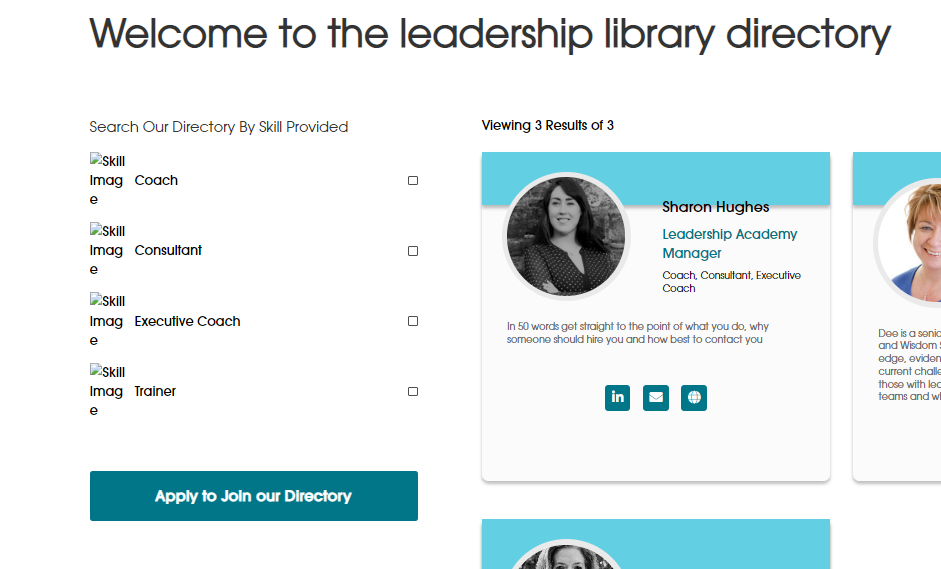 This is what your finished listing will look like
Under 'Service Name' we used Sharon Hughes which shows up top of the listing and corresponds with Q3 in the form
Under Q4 you can tick the services you provide and add new ones if necessary, these show up under the role/business description in the listing and are also filterable in the left column
Q5 is where you fill in the details of your offering and invite people to connect
The three buttons at the bottom will click through directly to the urls you have provided in Q7, 8 and 9